Panic Bars And Commercial Locksmith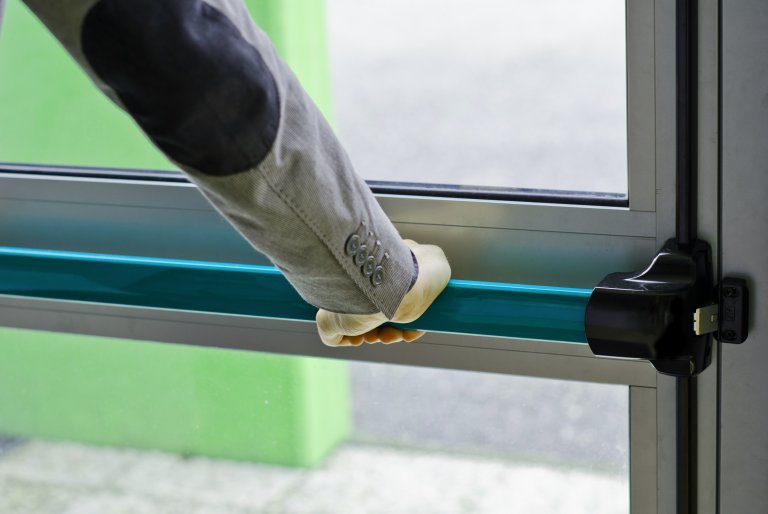 The panic doors are doors with unique features that allow quick and trouble-free exit in case of an emergency.
WHAT ARE THE CHARACTERISTICS OF PANIC DOORS?
The panic doors have some easily identifiable and differentiating features of any other door model. Some of the most interesting are the ones shown below:
1. PANIC BARS WITH PANIC LOCKS:
Panic doors include panic bars with automatic panic lock. These locks are intended to allow doors to be opened easily (even if we have locked from the outside to prevent theft or unauthorized entry), preventing panic from increasing in a life-threatening situation.
2. AVOID SATURATION OF USERS ON EVACUATION ROUTE:
The panic doors avoid possible agglomerations and saturations that may occur in an emergency exit. This facilitates the evacuation of the building, avoiding stoppers at exits,
stomps
, falls, and possible deaths in case of high numbers of people.
3. WITHOUT KNOB OR HANDLE FOR EMERGENCY EXITS:
The panic doors are equipped with the panic bar, so it is not necessary to have any type of knob or handle. You just have to push the bar and open the door, something fundamental that helps reduce the stress of people in a panic situation.
4. WITHOUT OPENING LOCKING DEVICES FOR PROPER EVACUATION:
The panic doors have special locks that prevent the existence of other block or opening devices that may require a more complex action. They are simple doors and, at the same time, designed to reduce to the minimum expression the time it takes for a person to go through the outside. The characteristics of the panic doors themselves bring a significant number of benefits. With a conventional door with complex or slower opening systems, the evacuation of a building can be something prolonged and complicated, at the same time, dangerous. Users will find these doors at the emergency exits and will instantly understand how to push the panic bar to go outside, thanks to the accompanying signage. The panic doors have been among us for a few decades, and over time they have been updated and further improved efficiency and safety. They can be found in university centers, hospitals, shopping centers, and a multitude of large spaces, and they are perfect for any type of buildings with emergency exits.
Applications Of Panic Bars:
About doors and exits, it is vital that they are appropriately marked and completely free, that is, without objects that obstruct them. Generally, these enclosures have emergency bars, also called 
Panic Bars/Push Bars
. They are mechanisms that facilitate the opening of the door by simply pushing the horizontal bar outwards. We can see them in the emergency exits of public buildings such as health centers and schools or hotels, shopping centers, etc. These bars allow opening the door with hardly any effort, thanks to the principle of 'effective emergency. The pressure that is made on this type of bars can be horizontal or arc-shaped downwards but always in the direction of the exit. When activated, the latches that engage in the frame or on the floor are released, and the door opens. Before Hire services of locksmith consider these factors:
Price:
Different commercial locksmiths bill differently. Specify a price factor to see if you'll be charged for travel if you're in a remote area. This gives you a fair idea of how much you need to do the work you need. If the service is overrated, you have the freedom to negotiate. So only hire that locksmith who is in your budgets.
Insurance And License:
This is a priority because licensed locksmiths ensure that the work they do is done in the best way possible. Insurance saves unnecessary money and is useful when there is any damage to your property. These licensed and insured commercial locksmiths can be a bit expensive, but they are relaxed about the work done in the right way and are worth spending because the quality is central. The locksmith must be a licensed locksmith.
Commercial locksmiths
are specialized in high-security facilities. These types of doors are characterized by being open to the outside, having panic bars with special automatic opening locks, and being located in emergency exit areas to facilitate the evacuation of buildings.
[opty_stars_rate_bar size="large"]
[opty_stars_rating]